Last Updated: September 29 2022
How to Clock On / Off
Overview
Using CLOCK ON / CLOCK OFF, record a timestamp of your start and finish work time for each day. Your CLOCK ON and CLOCK OFF times, along with your total clocked hours, are sent to simPRO and recorded in Schedules

> Timesheets. So, if you only need to track daily start / finish times and the total hours between these times for your employees, use this feature instead of managing individual time blocks.
Tap CLOCK ON when you start work and tap CLOCK OFF when you finish.
Only when you tap CLOCK ON at the start of your workday, the CLOCK OFF button is accessible to tap at the end of your workday.
You can CLOCK ON and CLOCK OFF only once per calendar day.
You can CLOCK ON and CLOCK OFF only for the current calendar day. If you navigate to a different date in schedule, this feature is unavailable.
Learn more in How to Use Timesheets.

Required setup
Before performing the steps detailed below, ensure that this part of your build is set up correctly. The relevant steps to set up the features and workflows detailed in this article can be found here:
In order to view content or perform actions referred to in this article you need to have the appropriate permissions enabled in your security group. Go to System > Setup > Security Groups and access your security group to update your permissions. The relevant security group tab and specific permissions for this article can be found here:
About simPRO Mobile Security Groups: Timesheet and Stock Module

Record time gaps
When you CLOCK OFF the following information is displayed:
Total time: This is the sum total of time blocks recorded for the current day.
Clocked hours: This is the time elapsed between when you tapped CLOCK ON and CLOCK OFF.
UNDO CLOCK OFF: Undo clocking off and continue recording clocked hours so that you can clock off later.
If you have any time gaps between scheduled or recorded time blocks for the current day, tapping CLOCK OFF displays a warning message.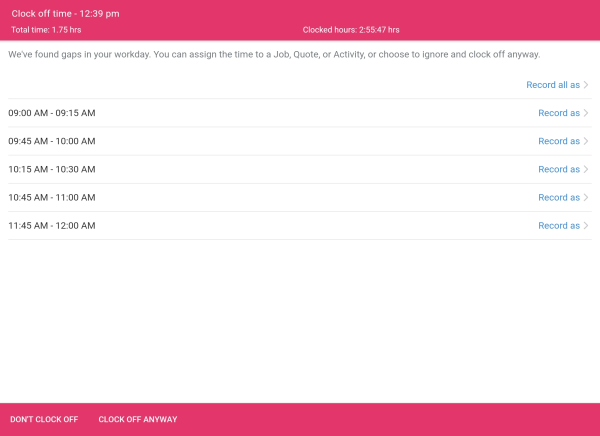 The Clock off time warning message lists the following information:
Record all as: Records all empty and available time slots between the CLOCK ON and CLOCK OFF timestamps with time blocks for the same quote, job or activity. If your CLOCK ON or CLOCK OFF splits an interval of time as defined in the Schedule Format, you are prompted to fill the entire interval with a time block. For example, if you are using a 30 minute Schedule Format and clock on at 8:46 am, 8:30 am - 9:00 am is considered as an empty time slot to be filled. Learn more in How to Create a New Time Block.
Record as: All the empty intervals of time that fall within your CLOCK ON and CLOCK OFF timestamps are listed on this page. Record each of these empty intervals of time individually against quotes, jobs, or activities, as required.
DON'T CLOCK OFF: Undo clock off and continue recording your clocked hours so that you can clock off later.
CLOCK OFF ANYWAY: Clock off without filling any of the empty intervals of time that fall between your clock on and clock off timestamps.

View recorded clocked time
When you tap CLOCK ON, clocked in time is instantly displayed on the employee's timesheet in simPRO. Similarly, after you tap CLOCK OFF, the clock off time and total clocked in hours are sent to simPRO.
Clocking on and off does not record actual hours against jobs. To track labour costs, you must add time blocks to the required project manually.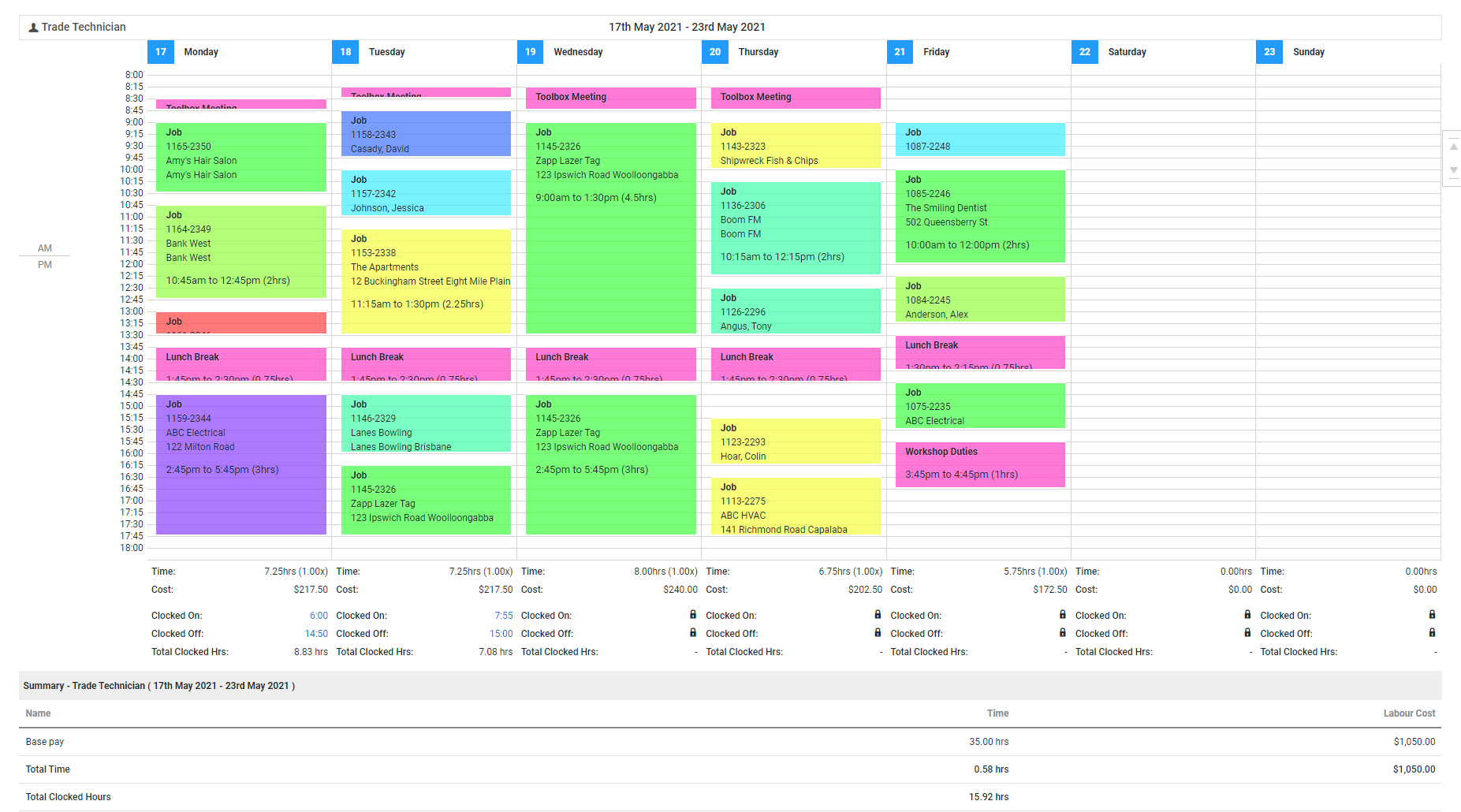 Go to Schedules

> Timesheets, select the relevant employees or contractors and click Submit. If the selected employees / contractors are assigned a Timesheet module licence, their Clocked On time, Clocked Off time, and Total Clocked Hrs are displayed under each day and in the Summary.
If a technician has made a mistake when recording their clock on / clock off time, a simPRO admin user can edit the time in simPRO. Learn more in Generate a timesheet.