Last Updated: December 13 2022
How to Integrate
simTRAC

and

simPRO
Overview
When you integrate simTRAC with simPRO, you can map data from simPRO onto simTRAC maps.
Learn more in How to Integrate simPRO and simTRAC.

Integrate

simTRAC

and

simPRO

Load

simPRO

data
By integrating simPRO and simTRAC, you can load quotes, jobs and sites from simPRO directly onto simTRAC and view them on the map.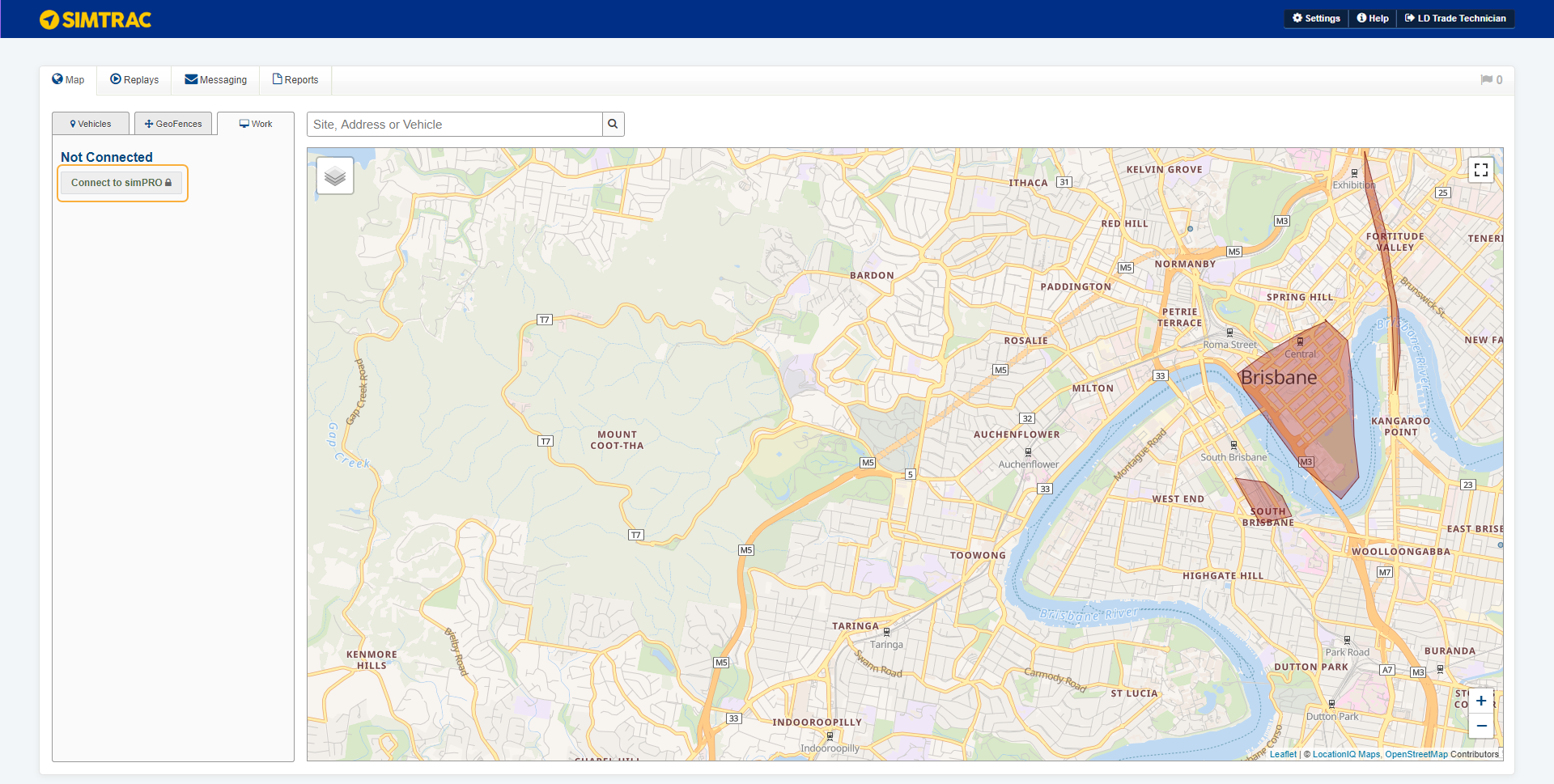 To connect to your simPRO database:
Click the Work tab.
Click Connect to

simPRO

.
Click Authorise.
Once you have connected to your simPRO database, you then see your company name at the top of the page in the Work tab. If you have a multi-company simPRO database, you can change the company by clicking the company name and selecting another company from the list.

Load quotes and jobs

To load quotes or jobs from your simPRO database:
Click the Work tab.
Select Quotes or Jobs.
Select Scheduled or Not Scheduled and select the date range.
Under Due Date, select the date range.
Narrow down your search by using the filters:

Cost Centres
Status
Technician
Business group
Zone.

Click More filters to filter by:

SalesPerson
Project Manager
Customer Groups
Customer Profile
Job Type.

Select your date range and relevant cost centres.
Click Search.

simTRAC now connects with simPRO and load all jobs or quotes within the specified date range. View job details by clicking a job in the list or by clicking the pin on the map.
Click the arrow under your company name to change the search filter.

Load sites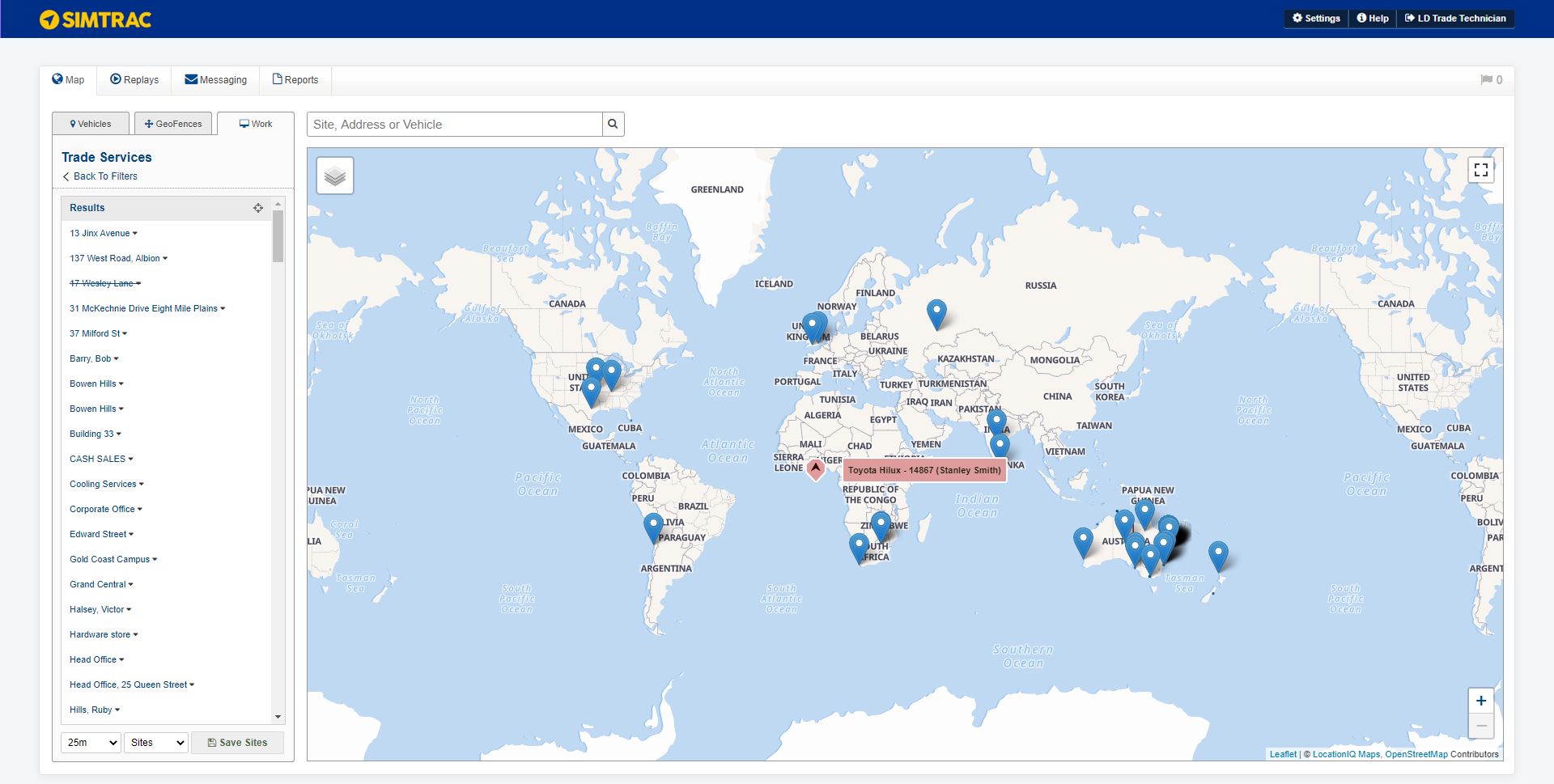 To load sites from your simPRO database:
Click the Work tab.
Select Sites.
Click Search.
Select the size and site type from the drop-down lists at the bottom of the Work tab and click Save Sites to create the sites on the map.
These sites remain on the map even when simTRAC is not connected to simPRO.

Incorrect addresses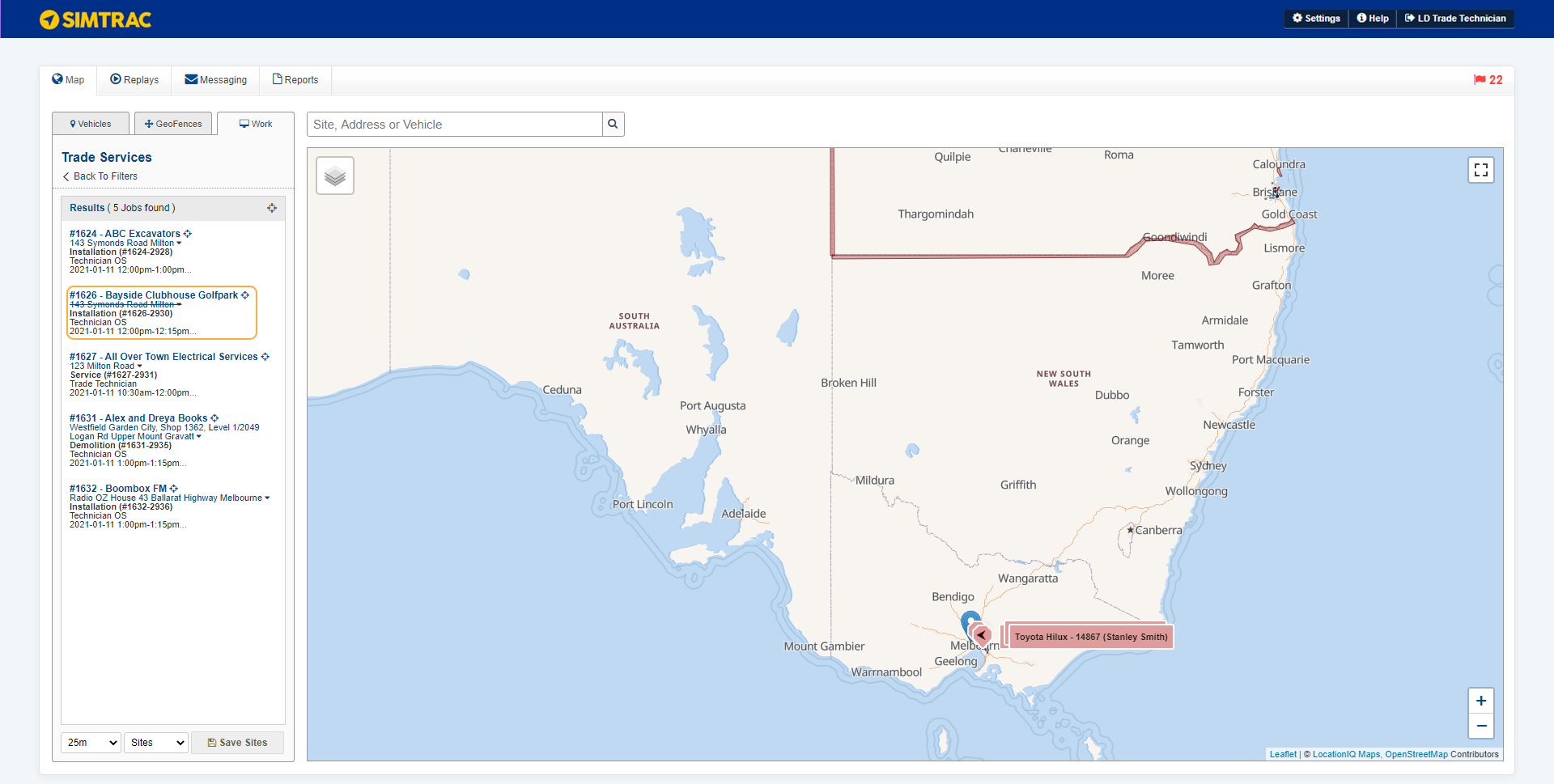 If there is a line through a site name in the results list, this means the specific address cannot be located on the map. This may be because the wrong address has been entered into simPRO and then imported into simTRAC.
Hover over the site name to locate any close matches. You can select another address to pin the job in the correct place.
To edit the site address, go to Settings > Manage Geofences and Sites and click the edit icon.

Learn more in the Learning Toolbox