Last Updated: November 16 2022
How to Build Options
Overview
Using the Quote and Sales module in the simPRO Mobile app, you can effectively communicate the value of your products and services to your customers. This module enables you to create, build, and present multiple options to your customers optimising their preferences for materials, labour, pricing, and memberships.

Required setup
Before performing the steps detailed below, ensure that this part of your build is set up correctly. The relevant steps to set up the features and workflows detailed in this article can be found here:
In order to view content or perform actions referred to in this article you need to have the appropriate permissions enabled in your security group. Go to System

> Setup > Security Groups and access your security group to update your permissions. The relevant security group tab and specific permissions for this article can be found here:

Build Options
Follow the instructions below to build an option to present to a customer: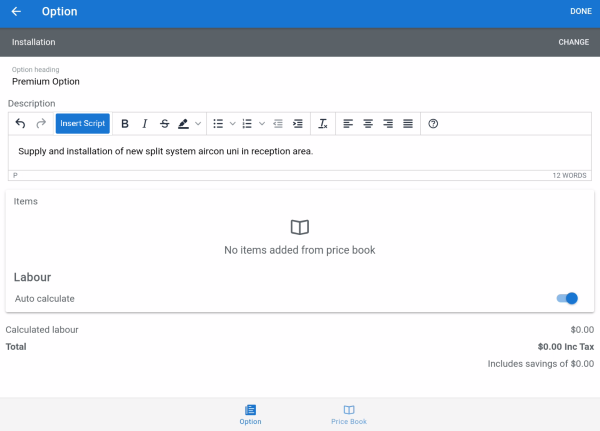 Access the required Quote or Job from Drafts or the Schedule or access quotes from the Schedule in the Service module.

Note that all cost centres on a quote or job are accessible in the module and are not limited to the one that the technician has been scheduled to.

Under In this quote section, tap the Option name to edit an existing option. Alternatively, tap the + ADD icon to create a new Option.
Tap to select a cost centre from the list.
Enter a new Option heading or edit the heading for an existing option, if required.

The new Option heading renames the corresponding cost centre in simPRO when the quote / job is sent to simPRO.

Click Insert Script to enter a relevant quote or job script as Description or manually enter a new description. Learn more in How to Use Scripts.
Tap Price Book to select pre-builds, catalogue items, labour, one off items and service fees required to build the option.


If any service fees, catalogue items or pre-builds are not available, log off and log back in to sync your materials with simPRO Mobile.




Tap Pre-Builds and select the applicable group and sub-group.
Tap the check box to select the required item and tap ADD.
Go back to select and add the required Catalogue items from the Price Book.
Tap View Details under the pre-build or catalogue item name to see the default image uploaded in

simPRO

, adjust required quantities and apply Add On pricing. Learn more in How to Create a Pre-Build and How to Create a Catalogue Item.
For Pre-builds, you can access URLs for supporting materials, and a breakdown of components.
Next, add Labour rates from the Price Book and tap Option.
If catalogue items or standard price pre-builds include estimated time, the selected labour rate is populated with relevant number of hours if Auto-calculate is enabled. Note that Auto-calculate is always enabled by default.
Adding more labour rates divides the estimated time equally between the selected labour rates.
To view labour rate details and manually specify labour hours, toggle off Auto-calculate.
For any additional charges that are not covered by existing items or Labour rates, create and add One off Items to the Option.
Go back to the New Quote or New Job page and tap + ADD to continue creating more Options. Learn more in How to Create a Quote or Job.