Last Updated: August 15 2023
How to Set Up Maintenance Planner
Overview

The Maintenance Planner is a Simpro Premium add-on focused on preventative maintenance for customer assets. This is useful if you require additional functionality to handle high volumes of asset-driven jobs with multiple service levels.
To set up Maintenance Planner and create Maintenance Planner jobs and quotes, it is important to understand the following relationships in your Simpro Premium system:
Customer assets are linked to sites, and can have their own defined service levels.
These service levels can be linked to failure points and recommendations when assigned to an asset type.
Service levels can also be linked to flat rate pre-builds that have a defined charge rate to bill to customers, as well as the preferred technician/s to complete the required works.

Required setup
In order to view content or perform actions referred to in this article you need to have the appropriate permissions enabled in your security group. Go to System

> Setup > Security Groups and access your security group to update your permissions. The relevant security group tab and specific permissions for this article can be found here:

Recommended Maintenance Planner setup workflow
System defaults
Go to System

> Setup > Defaults > System. You can set the following system defaults for Maintenance Planner jobs:
Lock Maintenance Planner Jobs on Creation: To ensure that the sell price of jobs is not impacted by updated labour time or additional materials, you can set up your

Simpro Premium

build to lock jobs automatically when created with the Maintenance Planner.
Maintenance Planner Job Descriptions: Select to view job descriptions in Detailed or Summary format. In the Summary view, multiple assets of the same type and service level are grouped in a single line, with the corresponding quantity in the job description. In the Detailed view, each asset on the job is listed individually. The job description is usually displayed on invoice forms so the Summary view can prevent your forms from being excessively long, if you test a large number of assets.
Save Maintenance Planner Descriptions to: Select to add maintenance planner

An add-on that tracks customer assets and alerts you when they are due to be serviced. descriptions in the Overview, Cost Centre or None. The Maintenance Planner description lists the asset ID, asset type, service level and service date for each of the assets included in a job that is created through Maintenance Planner.
Learn more in How to Set Up System Defaults.
Below is a simplified, recommended workflow for setting up Maintenance Planner in your Simpro Premium system. You can customise this workflow to suit your business.
It is recommended to test your setup workflow with a small number of assets added to one site. This assists in planning your Maintenance Planner implementation before going live.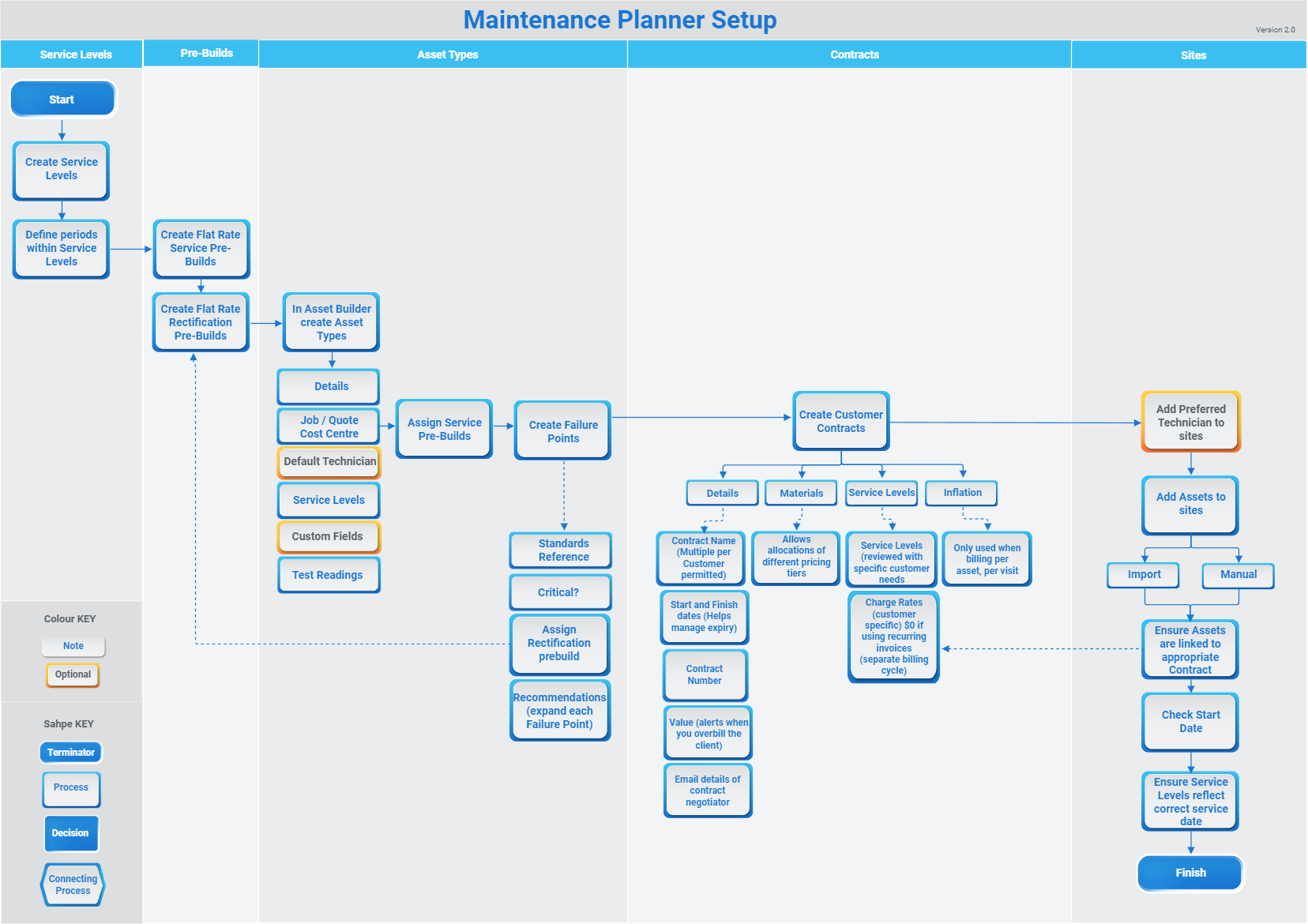 Recommended order to set up Maintenance Planner: